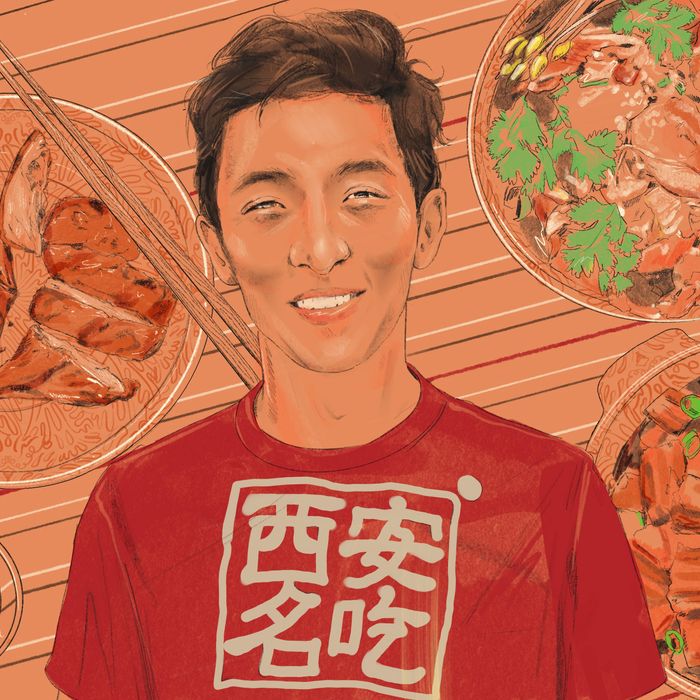 Jason Wang dreams of roast duck.
Illustration: Lindsay Mound
When Jason Wang's father David Shi opened the first Xi'An Famous Foods in 2005, it was an anonymous stall in the labyrinth, shabby basement of Flushing's now-closed, famous Golden Shopping Mall. In the 15 years since, Wang has taken over the business as CEO and, working with his father, helped turn it into one of this city's great success stories and an iconic New York business, loved for its food and tingly, spicy, trademark sauce. This week, Wang published the Xi'An Famous Foods cookbook, with recipes for signature dishes like liangpi. While Wang misses the excitement and "discovery" of the early days, he doesn't mind that Xi'An is no longer the new kid on the block. "I've said this to other folks, one of my biggest goals is to just make this into a century old business. So when I'm not around the next generation is able to take it on," he says. This week, Wang went on TV for a virtual noodle lesson to promote the book, and stir-fried scrambled eggs with tomatoes for breakfast in his new apartment.
Wednesday, October 7
I am not a morning person. I know a lot of successful people who can get up early and have so much energy. I'm just not. But I had to get up at 4:30 a.m., and the reason was to share the magic of pulling noodles on Good Morning America! Luckily, I only had to get up then as I stayed over my father's house, while the hardworking crew got up even earlier to make their way over. There was equipment setup for an hour or two, while my father and I prepared the foods to showcase and I went to a corner to go over the question and answers.
After pulling noodles virtually over Zoom with Amy Robach and Michael Strahan live, it was a wrap and I was pretty drained. I don't know how people do this every day this early. Shout-out to the editing that made me look good!
As the filming wrapped, I took a couple of bites of a big bowl of Spicy & Tingly beef noodles that I had made for the segment. My stomach was still asleep, so I didn't eat much, though it looked and tasted great!
After moving some furniture back into place and cleaning up the kitchen, I made my way back to my apartment in Long Island City. The emails were starting to pile up, so I answered as many as I could, and then set a timer for 5 hours, and went to bed.
Woke up in the late afternoon, answered some more emails, and ordered a Diavola pizza from Luzzo nearby. I usually like to sprinkle a shit ton of chili flakes on my pizza, but the chili flakes I have don't taste spicy on the tongue, so I settled for some sriracha. It's thin crust and pretty traditional. I'm not a very picky eater, but I do enjoy good food.
I scarfed down a few slices before wiping myself off, and ran over to Raines Law Room to have a few drinks and catch up with an old friend, Yami, visiting from Miami. We met back in the South Beach Wine and Food Festival years ago, when she was a student at Florida International University and assisted me. We chatted over the culinary journeys we've been on over some Old Fashioneds and Bees' Knees. She promised me a can of her newest cold brew while I promised to share my supplier pricing.
I like Raines. They make good drinks, it's a good ambiance, it was close to my office, which is why it was my choice to go. It's good for happy hour and later night chats with friends. For me, NYC is full of great bars, and why there? It's just a little bit more convenient. It's not super high traffic like some of the East Village places that you can't get into unless you wait for an hour or two. I try to bypass that. The same with food. I love great food, I love great drinks, I just can't deal with waiting because I have too much to do. I don't have time, I wish I did.
Thursday, October 8
I got up and went straight into a call into DOH to contest a violation we received a while back, before the pandemic, that we didn't seem to have gotten a notice for, so we missed the hearing and received a default judgement.
However, we realized this when collection calls started, and requested to contest. But since it's COVID era, the hearings are virtual, so basically we would have to call in on a specific day and wait for a judge to hear our case. We were basically accused of not having posted the required nutritional information at our Brooklyn store (we do and did) because we were a chain (technically we aren't, because we have fewer than 15 locations).
This was the second one of this sort I've contested recently, not sure why the inspectors didn't notice our signage in our stores… Anyways, I waited two hours on the line, couldn't go anywhere and was worried about hanging up and trying again, because the instructions explicitly said don't do that, but after holding off as long as I could, I had to head out to the office, so I asked my staff to take care of it, shouldn't be a hard case to present…(and for the record, after 3 hours, they were able to get through to someone before their workday was over).
I really wanted McD's spicy chicken nuggets, the sauce is where it's at, but no time, as I had to head over to the city to show a couple of apartments in Chelsea above our newly opened Chelsea location (we own the building) to prospective tenants.
I went through phases with American food. When I first got to the U.S. I was like, I can't stand this food, there's no good food anywhere, I really need some home cooked meals. Back when I was a kid in China, there was only KFC. But I never had KFC in Xi'An, I don't know why, it was too fancy. After I moved to Michigan from China, I remember the allure of McDonald's was really the happy meal. The food was just, eh. But then after a while I tried some of the fries, and McDonald's does have good fries. I started eating those, and I started getting used to the weird onion taste on the cheeseburger. Same with pizza. We had Godfather's pizza in Michigan, and whenever I'd walk into one of those places after we moved I was about to throw up because of that sauce smell. I was not used to it. Now, it's delicious.
More and more, I think there's nostalgia in a way, even for things I didn't like. For example, pickles. I hated pickles. I was like, "what is this dill taste?" When I was a kid in Michigan playing with friends, one of the parents would come out with a big jar of pickles, and everyone went crazy while I was like, "why?" Now it's like, everytime I see a pickle I think of those fun summer days, and I started appreciating it and I like pickles now. It's waves. I have an international stomach if that makes sense.
After the showings, I realized, once again, I didn't eat for the whole day. But by this time, I'd already starved myself long enough to the point where I didn't feel that hungry anymore (but I knew my body was hungry). In these circumstances, I typically like something a bit lighter. So, I went to Sobaya in the East Village. It was a bit chilly so I got a hot, soupy curry soba with extra noodles. That warmed me right up and was not too heavy.
As I was wrapping up my meal, I saw my good friend Sakura Yagi of TIC Group, which owns pretty much every Japanese establishment on 9th St. We quickly caught up about family and of course, a bit about our outlook on indoor dining and the challenges that await the restaurant industry in the coming days. She's one of the few people I actually connect with, all these years, in regard to the industry.
Sobaya is also near our St. Mark's location, which is the one I feel most connected to because I spent more time there. Around then. I'm not as tied to that, for the East Village one, I used to work there every day. Day till night.
At the time, it was figuring out, for me personally, how to be a contributing person in this business, as opposed to just standing around, doing odd jobs. Literally blood has been spilled at that location. It was a crazy time, there were drunk people fighting, that was a common occurrence. This one guy was taking a piss on the front of the store, I was protective of it, so I was telling him to leave. There were three of them, and they started a fight with me, so I just punched one in the head, we were starting fighting on the ground, the next door neighbor came out and broke it up. I appreciate that guy's help because it was three guys and just me. I probably would not have done very well.
Got back home, and remembered that Gold House (promoting gold opens for Asian-American films, like Crazy Rich Asians) had sent a courtesy pass to an online screening of Yellow Rose, so thought I can just finish the night with that. The film is about an undocumented Filipina teen in Texas, along after losing her mother to ICE, finding a sense of belonging through country music. I have to say, I really enjoy country music, and I also enjoy films that show the good in people. Then I realized I was hungry again, so I had some late night spicy Samyang spicy chicken instant ramen. Not healthy, but I enjoy the burn!
Friday, October 9
After running errands during the day, I went to Elmhurst to get pho at Pho Bac. Pho is something I have once a week. I think this has been a habit since 2014 or 2015, when I moved to LIC.
The soup has to be piping hot and the MSG has to be there. I get the huo che tou which is basically the works (rare beef, tripe, tendons, etc). I always keep a small container of the chili garlic sauce (for the tart chili garlic taste) mixed with sriracha (for added spiciness and fragrance). The trick is to not put the sauce into the soup! It'll be too spicy then! Use the soup spoon to get some noodles and meats in, then use the chopsticks to scoop a little bit of chili mixture in and eat that bite. Think: you don't mix wasabi into the soy sauce for sashimi, you take a little bit of wasabi and rub it onto the meat and then dip the meat into the soy sauce. Same idea really.
Did I mention I was moving? Yes, after shooting on Wednesday, I was able to start packing to move to Manhattan. I never lived in Manhattan before, so it's very exciting for me! I borrowed a van from XFF to start moving stuff over. Saying goodbye to an elevator building in LIC and moving to a walk-up is going to take some getting used to.
I got home close to midnight, and needed some dinner. I blanched some choy sum and dripped on some oyster sauce, and ate roast duck I picked up from Five Loaves and Two Fishes after pho. It reminds of these places that were popping up 20 years ago in Flushing, serving four dishes with one soup over rice type of places. Cheap boxed lunches places. That was the fad. There aren't that many left, except in pockets of Chinatown. You can get that here, or roast duck, another favorite food of mine.
The spices rubbed onto the inside of the duck are so flavorful, and I always ask for extra of the dark stew sauce. I just wish the duck was less fatty, so much fat to throw out every time (usually towards the tail end), but I tell myself, that's how ducks stay afloat, because they are fatty. They can't help it.
I didn't grow up eating roast duck in China, only after moving to Flushing when I was a teenager. I think because my father worked in restaurants, he'd get exposed to different
cuisines pretty often, and it's the sort of food he'd pick up coming from working out of state because he wouldn't have time to cook. He'd just grab some roast duck and give it to me, when I was in high school, or he'd leave some in the fridge, because it stays for days.
Saturday, October 10
For breakfast, I had this Post Honey Maid cereal with mini-smores. I know it's not healthy, but I have a bit of a sweet-tooth in the morning. It's simple and fast. I used to eat like a slice of Fay Da chocolate cake with soy milk every morning, before going to the store. Cereal is something that came into my life when I was growing up in Michigan, when it was cereal every morning. Sometimes I just need something in my stomach so I don't pass out. The problem with me is when I see a bunch of emails, I don't try to take them all at once, I try to do them all at once. I do them for hours.
After packing as much as I could into boxes, I Postmated a couple of Shake Shack single burgers with spicy fries. I like it with some extra ketchup and Tabasco habanero!
After I moved everything into the new place, all the restaurants were pretty much already closed, so I went to my fail-safe, Papa John's pizza with buffalo wings and watched some episodes of Blacklist on Netflix.
Sunday, October 11
I finally got to cook. Just some quick tomatoes and eggs with some leftover rice for breakfast. It's one of the simpler bachelor dishes there is, it's just scrambled eggs, and then some scallions, tomatoes, soy sauce, salt, and sugar. Usually I eat it for dinner or lunch, not breakfast.
Ate that on the step ladder, while watching Blacklist. I am thinking there's some plot twist coming about the demise of a certain character this season… we will see.
Another day of moving, back and forth. I didn't think I had that much stuff! By the end of the day, my fingers were giving out. I cooked some hong shao braised pork spare ribs, same as from my cookbook, but with a twist: I put in some sichuan pixian bean sauce and some dry chilis to give it a bit of a kick and a more reddish color. Had it with some rice and baby spinach sauteed with garlic.
I had to be ready to meet with my dad on Monday. I can't get away from him. In pre-COVID times, we'd usually get dim sum on Saturday mornings, like a working lunch. I like to go to Asian Jewels a lot because it's pretty big and pretty convenient. My father has other favorites, but I always drag him over there. We used to have a store in Flushing mall across the street, so it's a little nostalgic for me because it's where we used to meet as well to take a break.
Whenever there's a lot of stuff going on, we're always meeting. He likes to meet in person because we get in arguments on the phone, because we both have pretty loud and aggressive voices, so we always feel like we're screaming at each other. In person it's a little more benign. Still turns into screaming matches sometimes. We're discussing our Financial District location, which we're likely going to vacate at the end of the month unfortunately. The Financial District, is just a ghost town and we cannot stay there anymore. We'll also talk about important stuff, meal kits, delivering liang pi around the city.
Sometimes he puts me in an awkward position. He just wants things to be better, but that can throw people off. We recently improved our recipes for our spinach dumplings, so the filling is more tasty, the skin is supposed to be thinner so it's not as doughy anymore. It's supposed to be a kind of hearty bite. He made some adjustments to make it a little better, and I didn't know he did that. So he just told the team that makes the dumplings, and then I get emails from people like, "hHey what happened with the dumplings? How come they're so different?" People are creatures of habit. I asked him, "What happened? What did you do?" And he told me, and I was like, "Can't you just give me a heads up so I know sometimes?" And he said, "what? I just made it better, I didn't think that'd be a problem." It's not as crazy as him launching new menus. He waits for me to travel internationally to do that — so I don't have any control.