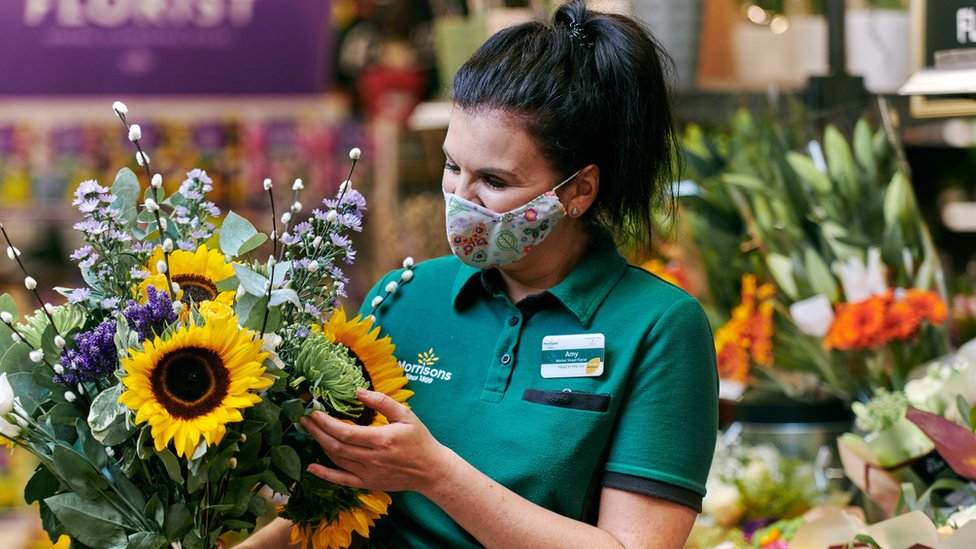 Morrisons will become the first UK supermarket to pay at least £10 an hour from April.
It will increase its minimum pay for up to 96,000 workers from £9.20.
Retail trade union Usdaw negotiated the £10 per hour basic rate which is 50p an hour above the voluntary Living Wage Foundation rate.
"The new consolidated hourly rate is now the leading rate of the major supermarkets," said Joanne McGuinness, Usdaw national officer.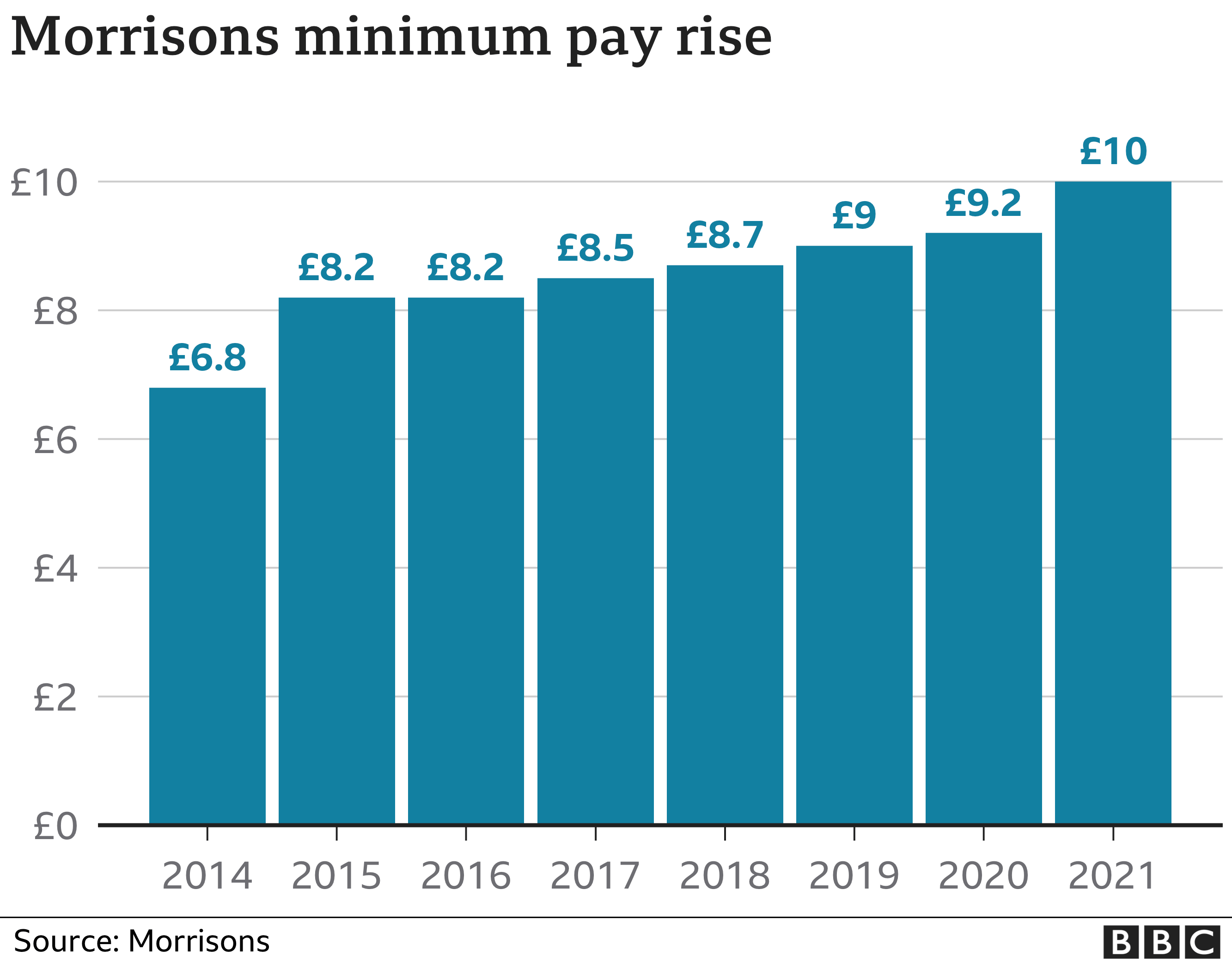 Morrisons said for the majority of its workers the pay increase will be approximately 9%.
Part of the increase will result from changing the company's annual bonus scheme from a discretionary yearly payment into a guaranteed amount in workers' hourly rates.
It will boost the weekly pay of someone working 36.75 hours a week from £330.10 to £367.50.
Union members still need to approve the deal. The result will be announced on 12 February and, if accepted, the new rates will be paid from 5 April 2021.
'Milestone'
"It's been a tough time for food retail staff who have worked throughout the pandemic in difficult circumstances," said Ms McGuinness.
"They provide the essential service of keeping the nation fed and deserve our support, respect and appreciation. Most of all they deserve decent pay and this offer is a welcome boost."
In addition to the hourly pay increase, Morrisons will pay a higher London weighting.
Rates for inner London will be 85p and for outer London 60p per hour, up from 75p in inner London and 50p in outer London.
David Potts, Morrisons chief executive said: "It's a symbolic and important milestone that represents another step in rewarding the incredibly important work that our colleagues do up and down the country."



Will rivals follow?
Morrisons' move propels it to the top of the supermarket pay league, leapfrogging Aldi and Lidl. Will other big rivals follow suit?
Supermarket staff have become frontline heroes in this pandemic and there's a new-found respect for the vital work they do in keeping us fed day-in day-out.
Many consumers may welcome the idea of higher rewards for those staff.
But supermarkets have already taken on a lot of extra costs in ramping up their operations as well as recruiting thousands of extra staff.
And there are no shortage of workers looking for jobs right now, which could keep a lid on pay.


Lidl has already announced plans to increase its hourly wage for staff from March, increasing the rate for 20,000 workers from £9.30 to £9.50.
Within London's M25 motorway boundary the rate has increased from £10.75 to £10.85 an hour.
"It is only right that we increase the income for our colleagues who are the backbone of our business.," said chief executive Christian Härtnagel.
"This is about recognising their hard work and dedication in keeping the nation fed during a year like no other.
Thank-you payments
Sainsbury's basic hourly pay is £9.30, and a statement to the BBC made no mention of any immediate intention to raise the rate.
A spokesperson said, "Our colleagues do a brilliant job and we are so proud of how they continue to go above and beyond for our customers.
"We have made two thank you payments to frontline workers in recognition of this in the last year and regularly review colleague pay to make sure we offer leading rates.
"This is in addition to our colleague recognition scheme, which allows line managers to recognise and reward colleagues in a range of ways throughout the year," the spokesperson said.
Latest available data suggests Aldi currently pays £9.40 an hour, Waitrose £9.35, Tesco £9.30, Asda £9.18, Co-op £9, and M&S £8.72.