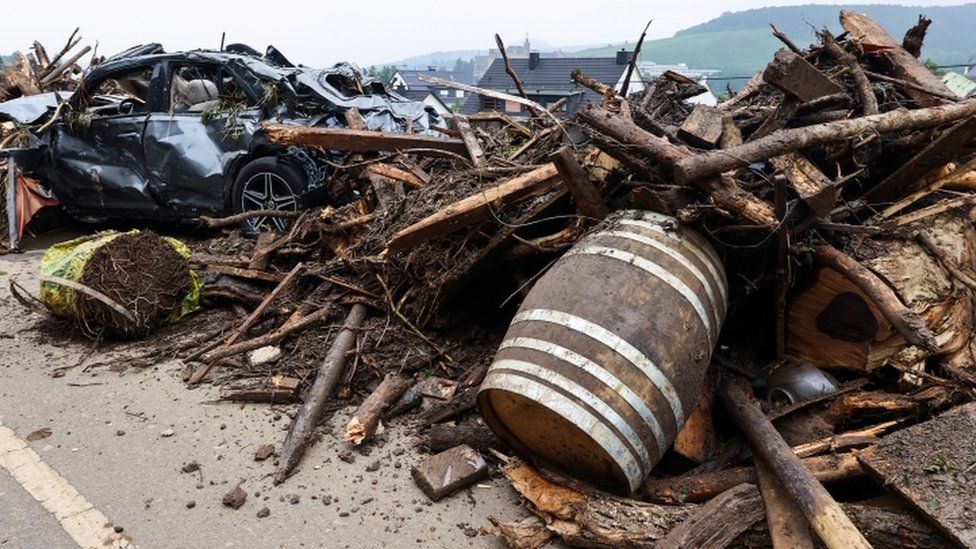 Residents in regions of Germany and Belgium worst-affected by recent floods have begun the huge task of clearing their neighbourhoods, as the waters begin to recede.
The scale of the damage is becoming clear, as rescue crews continue to look for victims.
At least 170 people have died, and with many still missing the death toll could rise further.
And there are fears that a dam weakened by the floods could burst.
Inspectors say large parts of the Steinbachtal dam, south-west of the German city of Bonn, have come away leaving it extremely unstable.
Inhabitants of areas downstream have been evacuated, and more people may be asked to leave their homes.
Another dam in Heinsberg district near Düsseldorf burst on Friday night, prompting hundreds of evacuations.
Meanwhile a senior German politician has been criticised for laughing during a visit to affected areas.
Armin Laschet, who is the conservative candidate to replace outgoing Chancellor Angela Merkel, was caught on camera apparently joking with colleagues as President Frank-Walter Steinmeier was expressing sympathy to victims.


"Laschet laughs while the country cries," Bild newspaper said on its website.
Mrs Merkel herself is expected to visit the village of Schuld, described by one resident as a "war zone", on Sunday.
European leaders have blamed climate change for the floods, which have also affected Switzerland, Luxembourg and the Netherlands.
Experts say global warming makes torrential rainfall more likely.
The world has already warmed by about 1.2C since the industrial era began.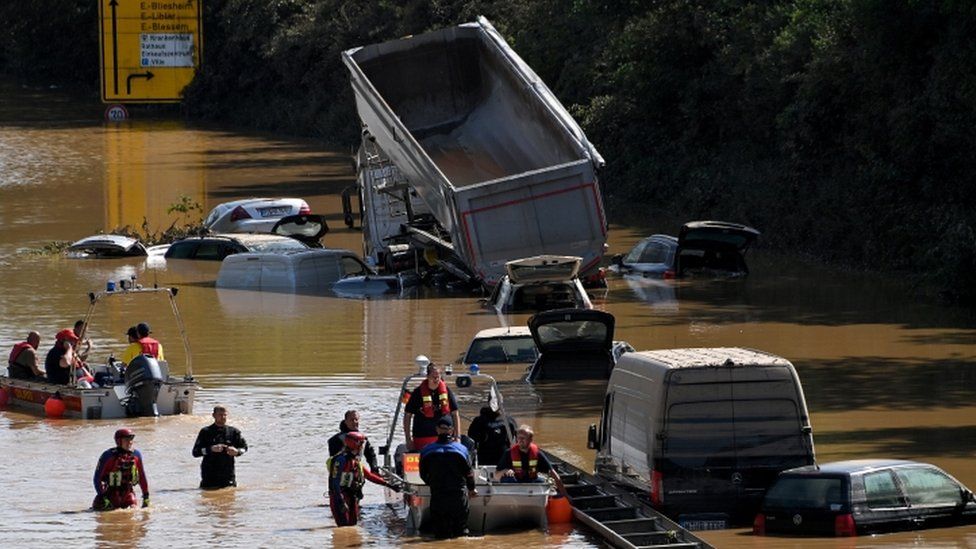 At least 143 people are now known to have died in the floods in Germany, including four firefighters.
The states of North Rhine-Westphalia, Rhineland-Palatinate and Saarland have been the worst affected.
Thousands of people were reported missing during the height of the floods, but many have since been accounted for.
In the spa town of Bad Neuenahr in Rhineland-Palatinate's Ahrweiler district, residents were determined to begin the clean-up operation, scraping mud from the streets and clearing piles of debris.
But the task is huge, with many businesses and livelihoods in the town swept away, electricity and gas still cut off and communication lines destroyed.
"Everything is completely destroyed, you don't recognise the scenery," said wine shop owner Michael Lang told Reuters.
Baker Gregor Degen told AFP news agency he had gathered a group of neighbours to start clearing away mud and debris.
He had been ready to go to work the day after the floods but water levels were too high, he said.
Nearly 100 people in Ahrweiler are believed to have died.
Meanwhile in North Rhine-Westphalia emergency workers have begun removing abandoned cars from the flood-hit B265 road.
Fire service spokesman Elmar Mettke said the cars had been checked for bodies while still submerged.
In Belgium, the army has been sent to four of the country's 10 provinces to help with rescue and evacuations. Prime Minister Alexander De Croo declared 20 July a national day of mourning.
He said the floods – which have claimed at least 27 lives in Belgium – could be "the most catastrophic our country has ever seen".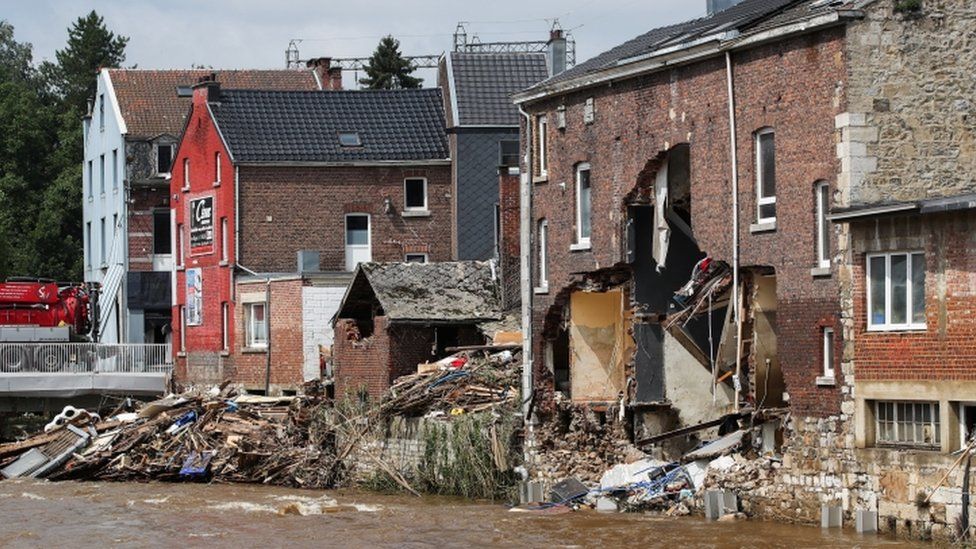 Rescue workers from France, Italy and Austria were sent to the city of Liege, where residents were evacuated after flash floods.
Meanwhile in the Netherlands, thousands of people fled their homes in Limburg province as rising waters swamped cities and broke through a dyke.
But waters were receding in the southern city of Maastricht and nearby towns, where residents were able to return to their homes on Friday.
Your device may not support this visualisation


In Switzerland, lakes and rivers were also swelling after heavy rainfall. The river running through the Swiss capital Bern burst its banks on Friday.
Lake Lucerne is flooding into the town and people in Basel have been told to keep well away from the River Rhine.


How does climate change cause flooding?
Global heating causes more water to evaporate, which leads to an increase in the amount of annual rain and snow
At the same time, a warmer atmosphere means it can hold more moisture – which also increases the intensity of rainfall
Rather than gently watering plants, this intense rainfall leads to flooding, like we're seeing in Northern Europe now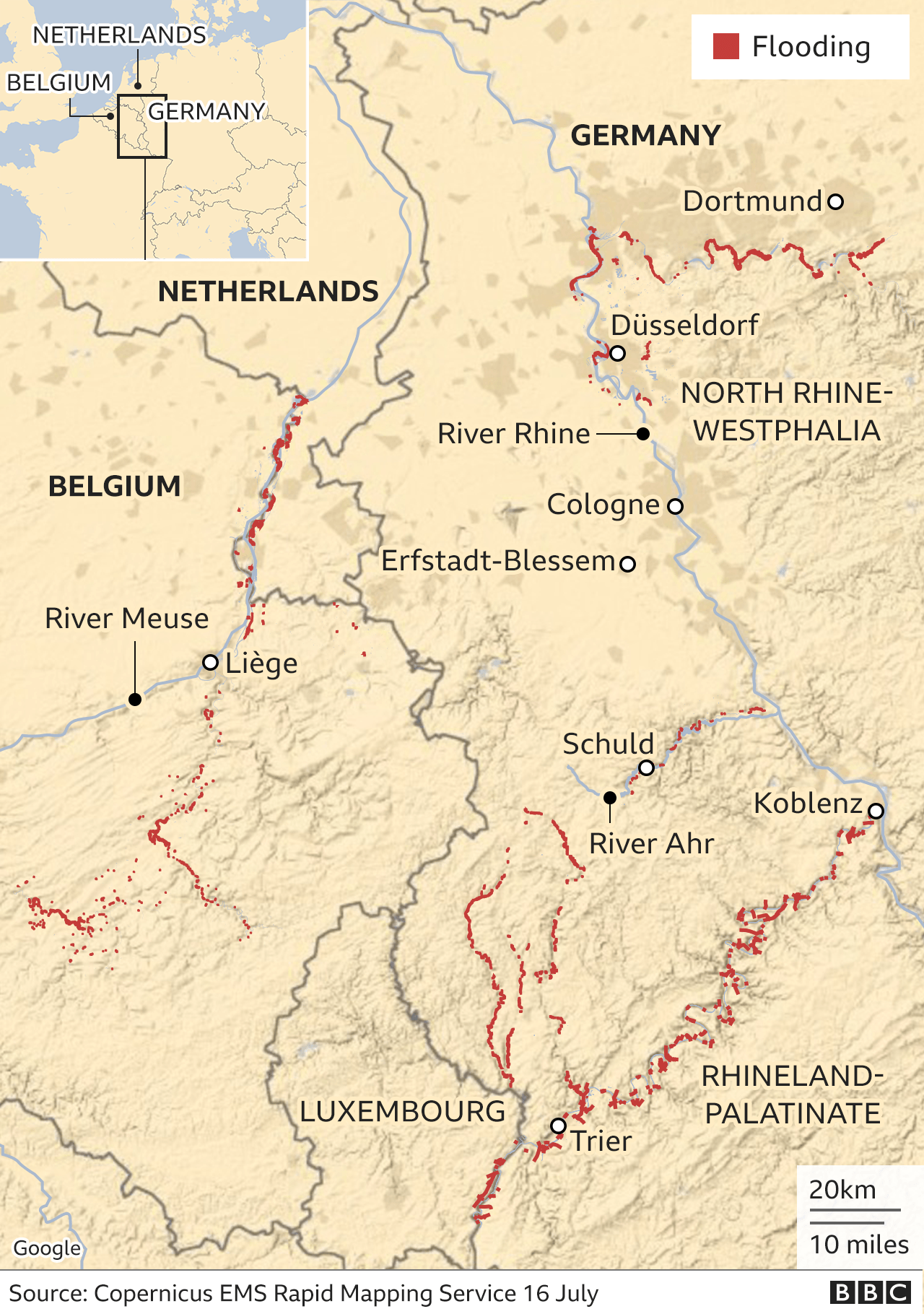 Please include a contact number if you are willing to speak to a BBC journalist. You can also get in touch in the following ways:
If you are reading this page and can't see the form you will need to visit the mobile version of the BBC website to submit your question or comment or you can email us at HaveYourSay@bbc.co.uk. Please include your name, age and location with any submission.