The NHS has warned of a "significant reduction in the weekly supply" of Covid vaccines in England next month in a letter to local health organisations.
The letter says there has been a "reduction in national inbound vaccines supply" and asks organisations to "ensure no further appointments are uploaded" to booking systems in April.
The health secretary said it was a "standard" letter.
The BBC understands no-one who has booked a vaccine should lose a slot.
Asked about it during a Downing Street coronavirus briefing, Matt Hancock said the NHS regularly sent out "technical letters" that explained the "ups and downs" of supply.
BBC political editor Laura Kuenssberg said there would be fewer AstraZeneca vaccines than expected because of issues with the company's international supply.
BBC health editor Hugh Pym said he understood that the vaccine supply issue related to a consignment from a manufacturer in India, with half of the order delayed by four weeks.
Understood that the AZ vaccine supply issue relates to consignment from manufacturer in India – half of order delayed 4 weeks.

— Hugh Pym (@BBCHughPym) March 17, 2021
A spokesperson for the AstraZeneca said: "Our UK domestic supply chain is not experiencing any disruption and there is no impact on our delivery schedule."



We were always warned supply was fragile – and these developments are a reminder of that.
The UK has its own plants that are supplying one to two million doses of the AstraZeneca vaccine each week.
There are also stocks coming from Pfizer's Belgium plant – these would be the ones that would be susceptible to any restrictions on exports the EU is threatening.
The Indian supplies were supposed to give the UK the "bumper" end to March, allowing the government to push ahead with vaccination of the under-50s within weeks.
This has now been put on hold, given significant numbers will need their second doses from the start of next month.
The government is still on track to hit its target to offer all adults a vaccine by the end of July.
By late Spring the first doses of Moderna – the third vaccine to have been approved in the UK – should start arriving.
But the delay to the second shipment from India means rollout is going to take a little longer than hoped at the start of this week.


It advises vaccination services to work with local authorities, voluntary community and faith organisations "to put in place reserve lists" of people eligible for the vaccine – as well as targeting areas of lower uptake.
The NHS says vaccination centres and community pharmacy-led services should close unfilled bookings from the week commencing 29 March.
Around 1.7 million people have also had a second dose.
During Wednesday's briefing, Mr Hancock said the UK was "ahead of schedule" to offer a first dose to all over-50s by 15 April.
He also reiterated a commitment to ensuring that all adults in the UK are offered their first dose of a coronavirus vaccine by the end of July.
Speaking alongside the health secretary, Mary Ramsay, head of immunisation at Public Health England, said "every day we vaccinate more people we are preventing more deaths".
And England's deputy chief medical officer, Prof Jonathan Van-Tam, said there was "no evidence" that the Oxford-AstraZeneca vaccine causes an "increased risk" of blood clots.
Prof Van-Tam added that all medicines have both side effects and benefits, and listed some of the rare side effects of paracetamol as examples, pointing out that most people had no issue with taking it.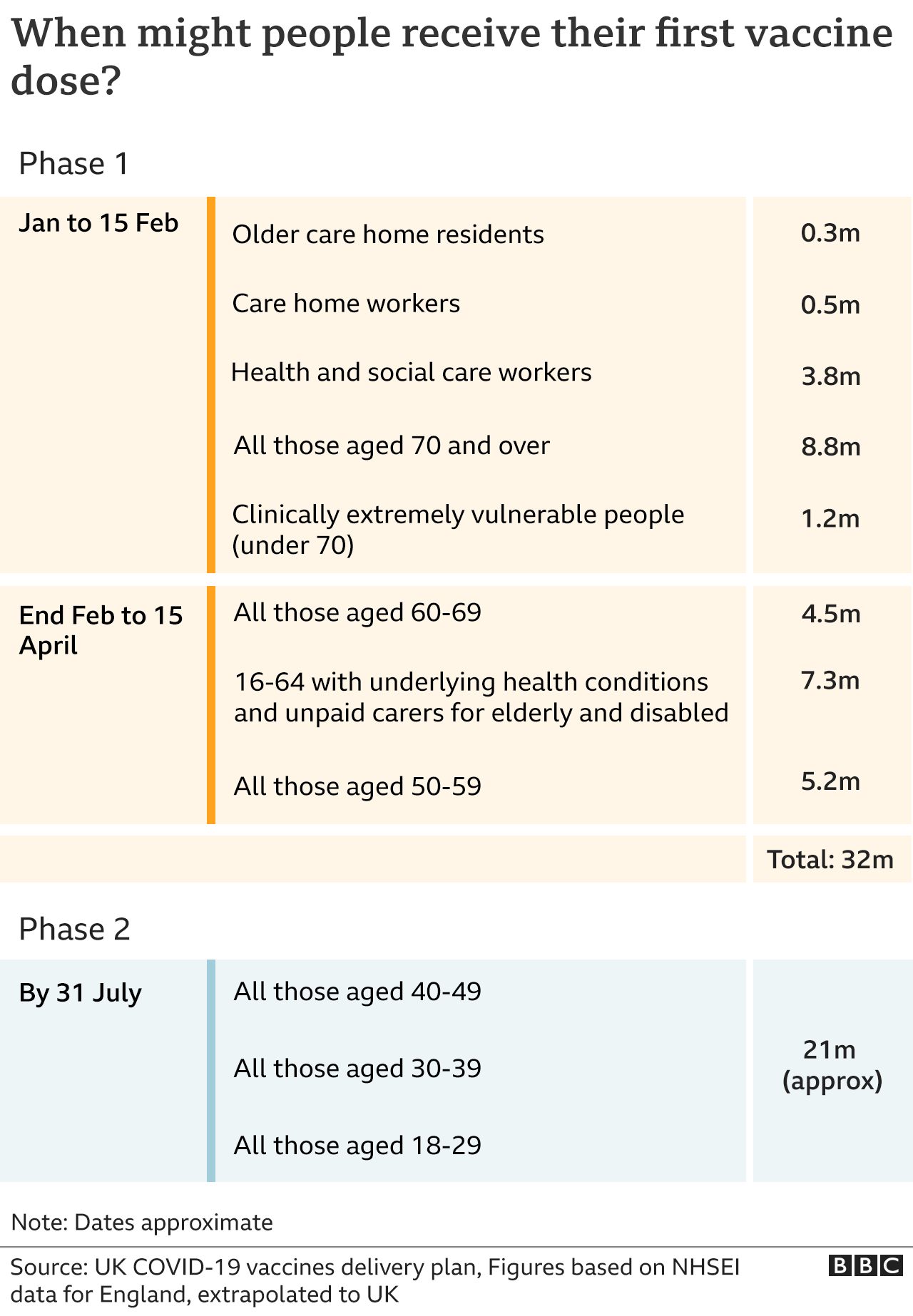 BBC politics correspondent Jonathan Blake said the hold-up would have an impact on the momentum of the vaccine rollout and possibly the government's targets.
Labour shadow health secretary Jonathan Ashworth tweeted that people "across the country" would be "anxious and worried" about the news of delays.
"Matt Hancock must explain what the issue is with supply and what efforts are being made to resolve them," he added.
On Wednesday, European Commission President Ursula von der Leyen said that if Covid vaccine supplies in Europe do not improve, the EU "will reflect whether exports to countries who have higher vaccination rates than us are still proportionate".
The EU and the UK have been engaged in a diplomatic row over the export of the vaccines, exacerbated by post-Brexit disagreements.