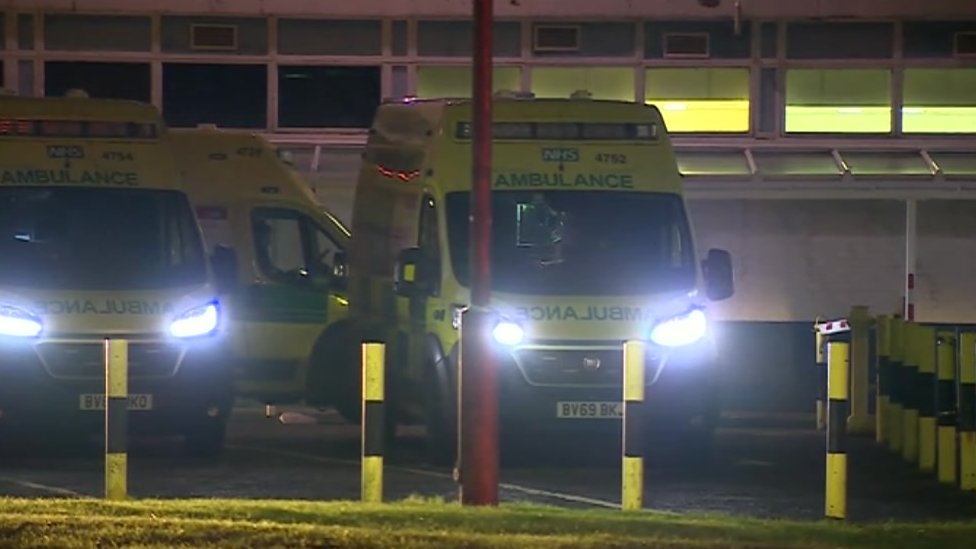 An ambulance service has experienced its busiest day on record as hospitals struggle to cope with an influx of coronavirus cases.
On Monday, West Midlands Ambulance Service dealt with 5,383 calls in 24 hours. The previous record was 5,001 calls in March 2018.
Four patients spent more than five hours in ambulances outside hospitals.
The ambulance service said Covid-19 and winter weather had resulted in hospitals being "extremely busy".
The longest a patient waited was five hours and 39 minutes, with two of the longest waits at the Royal Shrewsbury Hospital and Heartlands Hospital in Birmingham.
At one point on Monday night, 15 ambulances were waiting to hand over patients outside New Cross Hospital in Wolverhampton.
A source told the BBC it was "a very challenging day" and in total, handovers had accounted for 759 hours of crews' time, equivalent to taking 63 ambulances off the road.
While another said at 06:00 GMT on Tuesday, ambulances were still responding to emergency calls from the night before.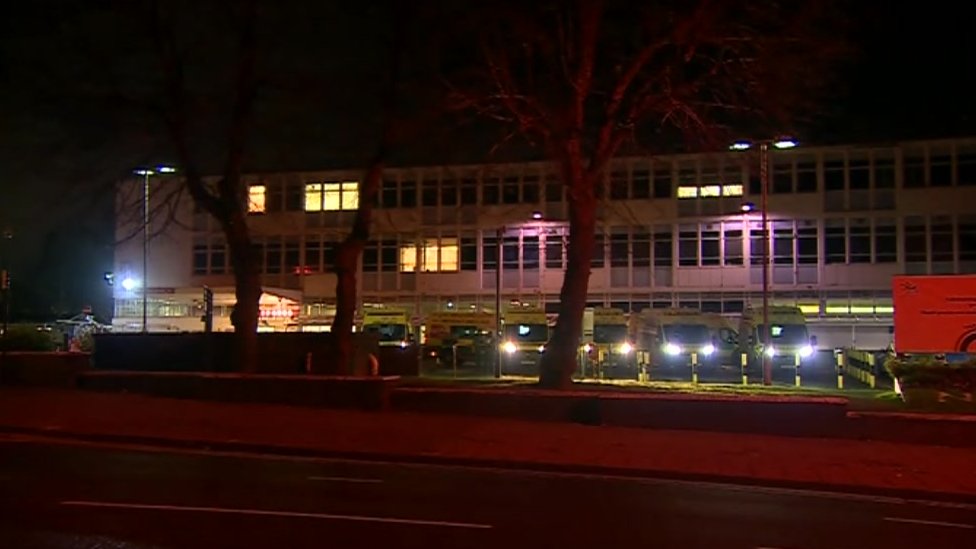 Prof David Loughton, the chief executive of the Royal Wolverhampton NHS Trust warned its capacity would "soon be compromised".
"The numbers are ramping up enormously and I don't think we've seen the full impact of what happened on Christmas Day yet, that will take time to come through," Prof Loughton said.
He added a two-week "lag" meant things could get worst before they get better.
"As I always say today's Covid rate is my order book for intensive care in two weeks' time."
A West Midlands Ambulance Service spokesman said: "A combination of Covid-19 and winter weather has resulted in hospitals being extremely busy which unfortunately resulted in hospital handover delays.
"We work closely with the hospitals to try and ensure our crews are able to handover patients quickly and safely, but due to the extremely high demand some patients did wait longer to be handed over than we would normally see."