It is "too early" to know whether summer holidays can go ahead, the health secretary has said.
Matt Hancock said there was still "a lot of uncertainty" but ministers were doing everything possible to make sure people could have a holiday this year.
He told the BBC he had booked his own summer break in Cornwall "months ago".
Labour leader Sir Keir Starmer urged the government to "get rid of the mixed messages" about whether people should book holidays for later in the year.
It follows confusion after Transport Secretary Grant Shapps warned "people shouldn't be booking holidays right now – not domestically or internationally".
Further restrictions on international travel are due to be introduced on Monday.
Mr Hancock said it was too early to know which coronavirus restrictions may still be in place over the summer, but that he understood people wanted to make plans.
He told BBC Breakfast "people are yearning for certainty over whether they can have a summer holiday" but said "pandemics are difficult times and there is a lot of uncertainty".
"We are doing everything that we possibly can to make sure that people can have a holiday this summer but the vaccine rollout is absolutely essential to that," he continued.
The health secretary told BBC Radio 4's Today programme that, before summer holidays, the priority would be making sure people can see loved ones again.
He said it was too early to say when this might happen but the prime minister would set out more details in the week beginning 22 February.
Meanwhile, Mr Hancock said 90% of people had accepted an offer of a coronavirus vaccine – much higher than predictions about 75% would take a jab.


Ministers tangle once more

It's a classic Covid situation.
Ministers' remarks clash with each other – in emphasis or fact sometimes – because they just do not know exactly what the situation will be, so they have no solid decision to explain.
And if they don't know, well there's not much they can tell us.
There is a separate conversation about just how vital clarity in government communications is during a public health crisis, whether ministers stick to exactly the same script is a matter that can affect life and death.
There are also ways for experienced politicians to not answer questions, even if it makes some people shout at the telly or turn off the radio.
But when it comes to looking more than a few weeks into the future, in the way that we all want to, all too often, ministers have ended up in a tangle.


Mr Hancock's comments came after both Mr Johnson and Mr Shapps urged people not to "go ahead and book holidays".
Mr Shapps said on Wednesday it was "too soon" to book a domestic holiday and that foreign breaks may only be possible once many more people have been vaccinated and to "do nothing at this stage".
Mr Johnson told a Downing Street briefing that people would have to be a "little bit more patient."
The PM's official spokesman said Mr Johnson does not have a holiday planned but "is obviously keen to have a break over the summer".
But Labour's shadow health secretary Jonathan Ashworth criticised ministers for not being clearer about what the public could plan for.
He said he had yet to book a holiday because he was "in the same boat as everyone else".
"I just want to know what's happening, so ministers need to tell us," he said.
Sir Keir said he had a "holding" booking for a break in Devon in August that is "subject to restrictions, that's the best anybody can do".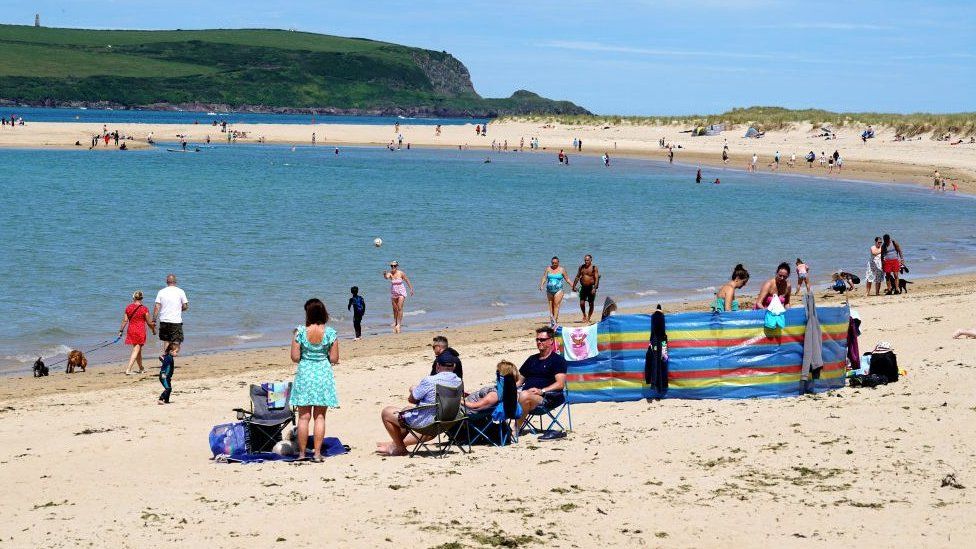 The remarks from Mr Shapps on Wednesday prompted anger from senior Conservative MP Sir Charles Walker, who accused ministers of "ripping out" the goalposts on the timetable for lifting Covid restrictions.
People "need to have something to look forward to", he said.
While Heathrow Airport's chief executive said getting back to normality was not just about people's holidays but also to "protect people's businesses and livelihood".
John Holland-Kaye said aviation businesses have gone for almost a full year with virtually no revenue and warned they may not be able to continue without slashing jobs.
Henry Joce, of Tencreek Holiday Park and Campsite in Cornwall, told BBC Radio 5 Live it may be too late, not too soon, to book a spot there over certain dates this summer.
He said soaring demand for breaks over the past fortnight meant he was at risk of selling during peak weeks, which he put down to people "being desperate to get away".




Under the current national restrictions, holidays are not permitted anywhere in the UK. International travel is restricted to essential purposes, such as for work, medical appointments, or education.
A new online portal allowing UK and Irish nationals and residents travelling from certain "red list" countries to book a place in hotel quarantine opens later on Thursday.
From Monday, arrivals from 33 nations deemed high-risk due to new virus variants must isolate for 10 days in managed facilities at a cost of at least £1,750.
All other arrivals must see out a 10-day quarantine at home, but will be required to book and pay for two additional private virus tests.

Have you planned a holiday for this year? Are you returning to the UK soon and will be staying at a quarantine hotel? Please share your experiences.