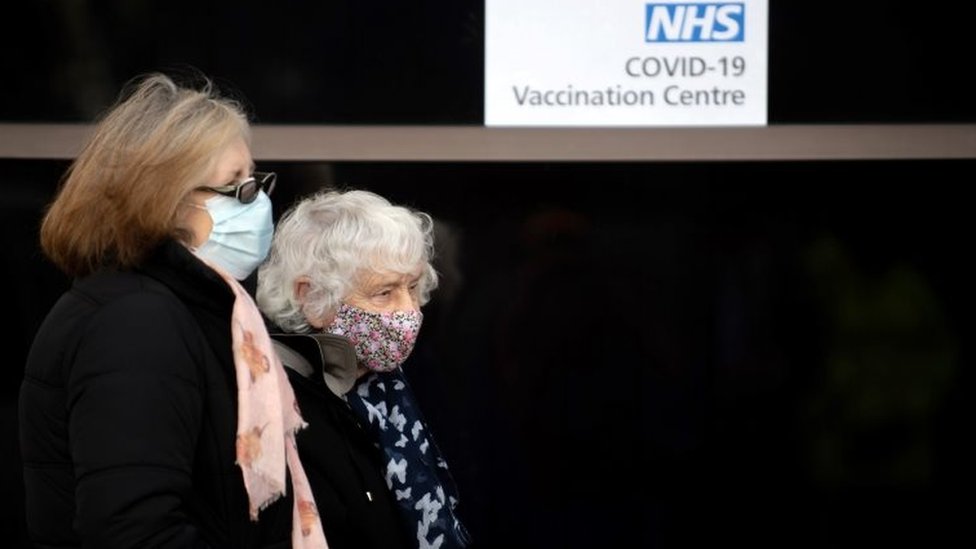 The prime minister has said lockdown measures are "starting to show signs of some effect", but he has refused to rule out extra restrictions in England.
At PMQs, Boris Johnson said measures were kept under "constant review" after Labour's Sir Keir Starmer said it was obvious more restrictions were needed.
Mr Johnson added that vaccine centres would move to 24-7 "as soon as we can".
Under the national lockdown, people in England must stay at home and only go out for limited reasons.
This includes for food shopping, exercise, or work if they cannot do so from home. Similar measures are in place across much of Scotland, Wales and Northern Ireland.
Later, Mr Johnson told the Commons Liaison Committee there was a "very substantial" risk of intensive care capacity in hospitals being "overtopped", and appealed to people to follow lockdown rules.
He said the situation was "very, very tough" in the NHS and the strain on staff was "colossal".
At Prime Minister's Questions, Sir Keir said stronger restrictions were needed in England and accused Mr Johnson of being "slow to act".
He asked the prime minister why restrictions were weaker in this lockdown compared with March.
"We keep things under constant review," Mr Johnson replied. "If there is any need to toughen up restrictions – which I don't rule out – we will of course come to this House.
"The lockdown measures we have in place combined with tier four measures that we were using are starting to show signs of some effect and we must take account of that too."
He added it was early days and urged people to abide by the rules.
Questioned by the liaison committee on Wednesday afternoon, Mr Johnson said it was "far, far too early" to say there could be any relaxation of the lockdown in the middle of February, and "we've got to work very hard to achieve that".
He acknowledged that it was a "tragedy" that so many children were missing face-to-face teaching at school and said reopening schools was "the priority".
Tier four – the highest level in England's tier system which bans households mixing indoors – was introduced on 21 December in parts of south-east England, including London.
It was then widened to include more of southern England on Boxing Day. England has been in a national lockdown since 5 January.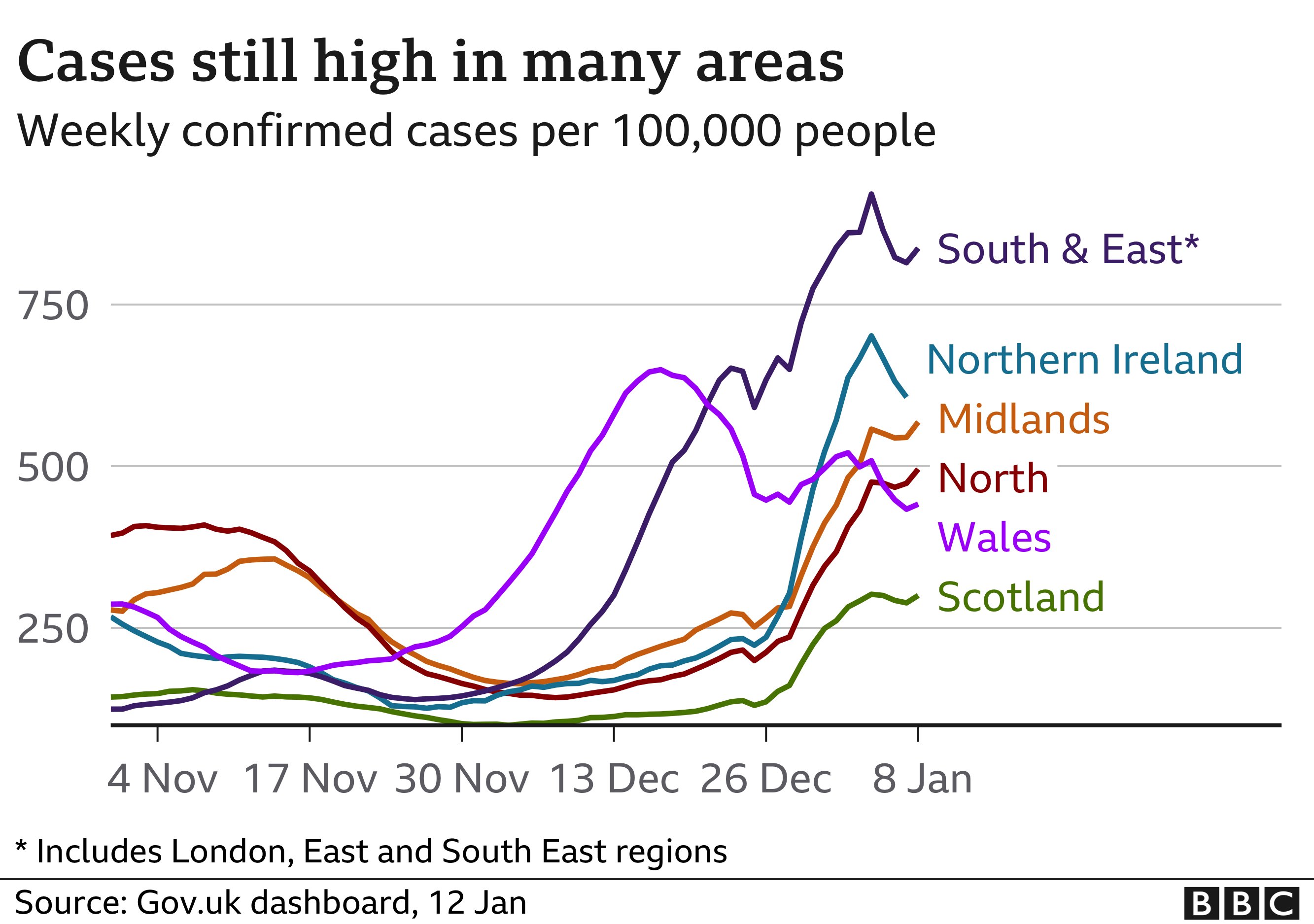 Mr Johnson also said the vaccination programme was going "exceptionally fast" but "at the moment the limit is on supply" of the vaccine.
"We will be going to 24/7 as soon as we can," he told MPs, saying Health Secretary Matt Hancock will set out further details "in due course".
More than 2.4 million people have had a first dose of a coronavirus vaccine, while 412,167 people have had a second dose.
Scotland's Health Secretary Jeane Freeman said it was "entirely possible" to offer round-the-clock vaccinations in Scotland once mass sites were up and running by late February or early March.



There are very early signs that infections may have peaked – although as always we should be careful about reading too much into a few days' worth of data.
The past two days have seen newly diagnosed cases hover around the 46,000-mark. Up to the weekend, the average was close to 60,000.
The drop has largely been driven by falls in new cases in London, the South East and East of England.
The national picture does mask some regional differences. Cases are rising in the North West, which is causing particular concern.
It is too early for the vaccination programme to be having any significant impact so a combination of the national lockdown on top of the tier four restrictions that were imposed in some areas before Christmas look like they may be beginning to have an impact.
There is also some evidence the new variant may not be quite as fast-spreading as first feared – a Public Health England study suggested rather than being 70% more transmissible, it may actually be somewhere between 30% to 50%.
And, if it does represent the start of a continuous fall, it is important to remember it will still take some time to translate into fewer hospital cases – people being admitted at the moment are those who would have caught the virus a week or two ago.
But after six weeks of pretty sustained rises, it is at least an encouraging sign.


Earlier, Health Secretary Matt Hancock questioned whether there would be demand for a round-the-clock vaccination operation, saying: "Most people want to get vaccinated in the daytime, and also most people who are doing the vaccinations want to give them in the daytime, but there may be circumstances in which that would help."
He said England's lockdown measures were "always under review", but he would be "very reluctant" to remove the rule of meeting one other person outside for exercise as "it is a lifeline" for some people, including those who live alone. Mr Hancock has already ruled out scrapping support bubbles.
"What I'd rather is that everybody follow that rule and doesn't stretch it or flex it," he said.