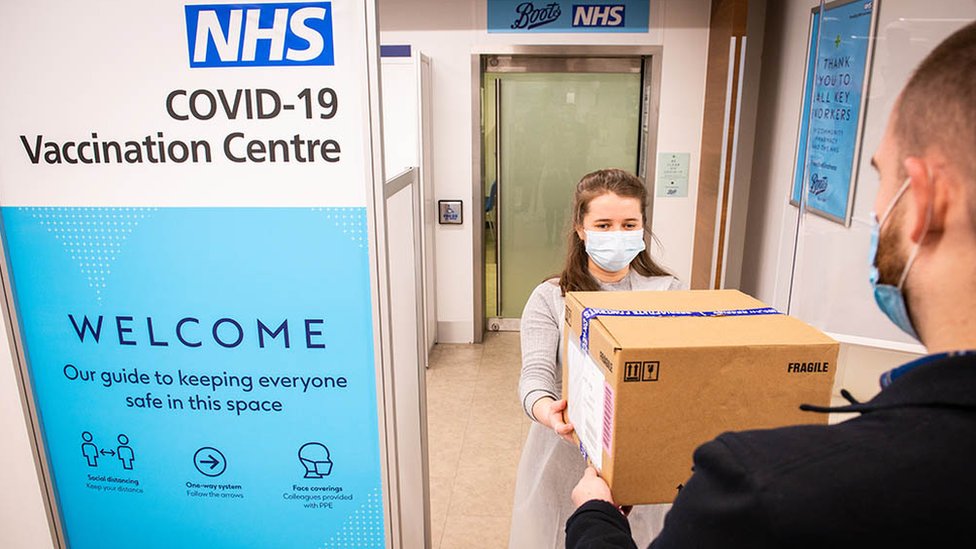 Some High Street pharmacies in England will start vaccinating people from priority groups on Thursday, with 200 providing jabs in the next two weeks.
Six chemists in Halifax, Macclesfield, Widnes, Guildford, Edgware and Telford are the first to offer appointments to those invited by letter.
But pharmacists say many more sites should be allowed to give the jab, not just the largest ones.
More than 2.2 million people in England have now received their first dose.
Across the UK, the target is to vaccinate 15 million people
in the top four priority groups – care home residents and workers, NHS frontline staff, the over-70s and the extremely clinically vulnerable – by mid-February.
More than 2.6 million people have already received either the Oxford-AstraZeneca or Pfizer-BioNTech vaccine at a hospital, care home, GP surgery or vaccination centre in the UK.
Online booking service
The first pharmacy sites in England to deliver a vaccine are:
Boots, Halifax
Andrews Pharmacy, Macclesfield
Appleton Village Pharmacy, Widnes
Superdrug Pharmacy, Guildford
Cullimore Chemist, Edgware
Woodside Pharmacy, Telford
They have been chosen because they are capable of delivering large numbers of vaccines quickly while allowing space for social distancing.
Anyone who doesn't want to travel to these sites can still be vaccinated by their local GP or hospital service, but they may have to wait longer.
Up to 70 more pharmacies will be taking bookings for appointments for next week, with 200 in total offering slots over the next fortnight, according to NHS England.
Vaccines are currently being offered at more than 1,000 sites, including:,
200 hospital hubs
800 GP-led services
seven mass vaccination centres, one in each English region
But the National Pharmacy Association says the rules on which pharmacies qualify to deliver Covid vaccines should be relaxed to allow more to take part.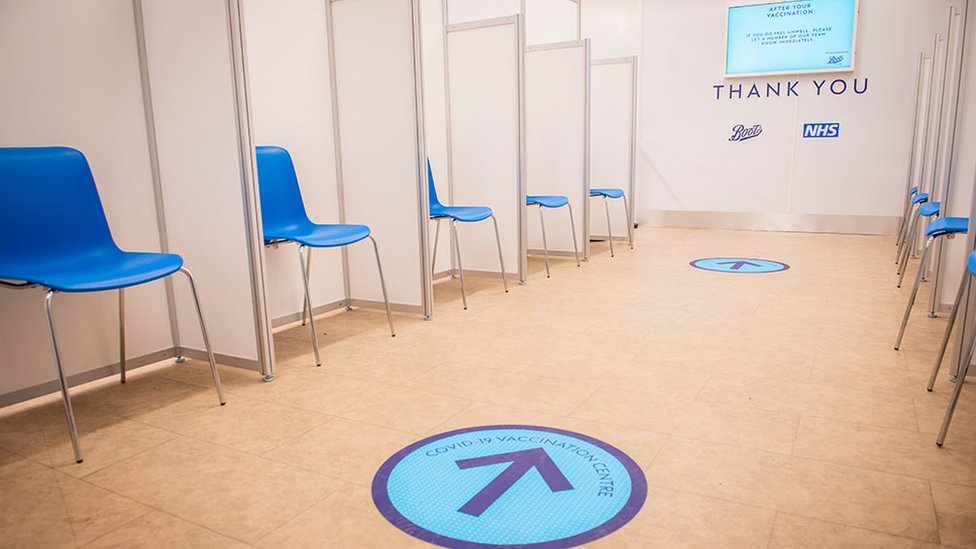 At present, pharmacies have to be able to deliver 1,000 vaccines a week, have enough fridge space to store all the doses and be able to open seven days a week.
Andrew Lane, of the National Pharmacy Association, said now that the Oxford vaccine had been approved, community pharmacies could store and administer it in the same way as they deliver the flu jab.
The Oxford vaccine only needs to be stored at fridge temperature, as opposed to the freezer temperatures of -70C required by Pfizer.
"We're here, we're trained, we will deliver," said Mr Lane, who represents Buckinghamshire, Oxfordshire, Berkshire and Northamptonshire.
NHS England has said that as more supplies of vaccine become available, more community pharmacists will be able to play a role in the programme.
'Working flat out'
England's Health Secretary Matt Hancock said: "Pharmacies sit at the heart of local communities and will make a big difference to our rollout programme by providing even more local, convenient places for those that are eligible to get their jab."
Vaccines Minister Nadhim Zahawi said staff across the NHS had "pulled out all the stops to help ramp up vaccinations" and were working day and night to keep people safe.
Prof Claire Anderson, chair of the Royal Pharmaceutical Society's English Pharmacy Board, said pharmacy teams in hospital, primary care and the community were "working flat out to support the nation's health".
She said she looked forward to the vaccination programme being expanded through pharmacies to benefit patients.




The BBC is not responsible for the content of external sites.